Learn to take time for YOU every day.
Even if you only have 10 minutes to spare.
Does it get overwhelming navigating through everything happening around you? Are you living your life on auto-pilot just trying to make it through the day? Do you struggle with all you need to do and not having enough time to get it all done? Do you give away all of your love so there's none left for you? 
If you can answer "YES" to any of these questions, trust me when I say…you're not alone! I lived like that for years and then it all came crashing down around me. That's when I discovered some simple steps for showing myself love and finding peace from within. Now I'm living with less stress, more confidence, and am happier than I've been in years! 
When you enroll in this FREE course, you'll learn the steps I use everyday to show myself some love. By practicing these steps, you'll start showing yourself some love too. You'll also begin to live your life filled with more joy and happiness! 
The Show Yourself Some Love course gives you 7 simple steps you can practice every day to stop feeling overwhelmed and find your peace within. Spending 10 minutes a day showing yourself some love has the power to relieve stress and reduce anxiety. It also gives you the strength to face just about anything that comes your way!
Here's what they're saying about this course.
5 star rating
Exactly what I needed!
Jana Boyko
I really enjoyed this course and loved how easy it was to start implementing the lessons right away! Diana has an incredibly calm and grounded presence, and when I listened to her speak it felt like I was listening to a soothing guided meditation....
Read More
I really enjoyed this course and loved how easy it was to start implementing the lessons right away! Diana has an incredibly calm and grounded presence, and when I listened to her speak it felt like I was listening to a soothing guided meditation. This course, along with the workbook, helped me feel more connected to myself by honouring my needs and desires. I can't wait to come back to this course again and again whenever I need to show myself more love and compassion!!
Read Less
It's exactly what you need too!
What's included in this FREE course?
When you make the decision to enroll in this course and start showing yourself some love, you'll learn...
The importance of making a commitment to loving yourself more so you feel more peace.
How finding a role model (or two) can teach you new things about yourself.
Why practicing meditation every day helps you feel balanced and at ease.
The benefits of writing your thoughts and feelings in a journal.
How engaging with a group of like minded people can support you.
The importance of expressing gratitude for everything you have.
How asking for help when you need it frees up more time for yourself.
The beautiful thing about these steps is that you don't need to be perfect at doing them to reap the benefits of them. It's more important to make progress toward the goal of showing yourself some love every day. 
Here's what else you'll get when you enroll.
Personal coaching session

$200 value

During our 60 minute conversation, we'll celebrate YOU!! There'll also be time for you to ask me anything and I promise to give you my personal, undivided attention. It's my intention to guide you toward showing yourself love each and every day.

Course workbook

$50 value

There's 28 pages of content so you can practice the steps in the course. You'll answer questions and complete activities focused on reinforcing what you learned. The more you practice, the easier the steps are to complete. Before you know it, you'll have established some awesome new habits that have the potential to change your life for the better.

Future course discount

10% off

To show my appreciation for choosing to enroll in this course, you'll receive a 10% discount on any future courses you enroll in. You must complete this course AND take advantage of your personal coaching session in order to qualify.
Meet your course instructor.
Diana Himes - Founder, Embracing Me Academy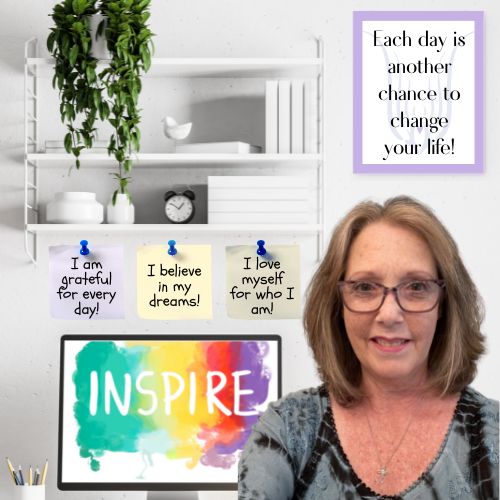 In 2019, my life changed forever when I made the decision to learn more about who I am from the inside out. On this journey of self-discovery, I found what I'd been looking for almost all of my life...love, support, and guidance. 
Before then, I tried to find these things outside of myself and it wasn't until I started looking inside that I really found them. Now I'm sharing what I've learned with you so you too can discover who you are from the inside out!
With over 15 years of successfully helping people change how they do things, I've learned a lot about how adults learn and how the mind works. That knowledge, along with a Masters of Science in Training and Development, gives me the skills and experience to successfully guide you on a journey of discovering more about yourself. 
You can't navigate the every day challenges if you don't take care of you! Invest time in showing yourself some love and learn how to find your peace from within. I promise you'll be happy you did!
You've got nothing to lose!